eLearning Award in the category Hybrid learning Daimler Truck and vitero have been awarded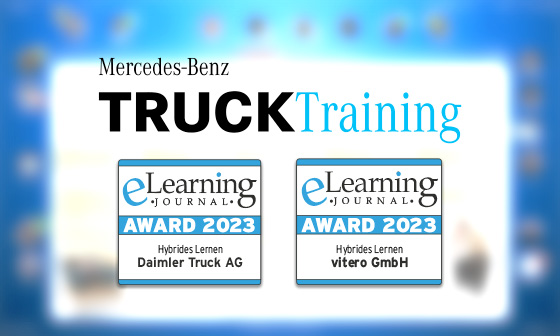 The jury of the eLearning AWARD 2023 has awarded us together with the Daimler Truck AG for the winning project "C-Sales Truck 3.0". We are very pleased about the joint award in the category Hybrid Learning.
Innovative redesign of the global salesperson training program
For more than 20 years, Daimler Truck AG has been using the "C-Sales Program" for comprehensive training of its truck salespeople. After the positive experiences with digital learning formats during the COVID19 pandemic, it was decided to redesign the programm as a hybrid concept. With the decision to split the Group into Daimler Truck AG and Mercedes Benz AG, the course was set for the restructuring of the program at the end of February 2021. The new training concept was successfully implemented. The best of the digital and real world was combined. The digital elements – e-learnings and the virtual classroom vitero inspire – serve to build knowledge as well as continuous networking. The highly application-oriented training camps take place in presence. The C-Sales program is now used in more than 42 markets worldwide.
Implementation of the virtual training elements in vitero inspire
Daimler Truck has chosen vitero as its partner for the implementation of the project. "The unique collaboration tools in vitero inspire – such as card queries, glue points and multiple-choice surveys – enable training participants to contribute in the elaboration of results despite physical distance. This allows an intensive collaboration of the digital training groups." Another reason why Daimler Truck chose vitero inspire was the issue of data protection. The software was able to convince with its well-thought-out data protection concept. Above all, it was important for Daimler Truck to have a competent and reliable partner alongside a high-quality and user-friendly tool.